Drake fans divided over rapper's painted yellow nails
5 June 2023, 12:41 | Updated: 5 June 2023, 12:45
Drake shows off basketball skills
The rapper sported a yellow manicure and fans had their opinions.
Drake has divided his fans after sporting a yellow manicure in a recent livestream for a betting app.
The rapper wore yellow nail polish on all fingers besides his pinky, he chose a funky light blue colour.
A lot of fans seemed to love Drizzy's manicure, but others were less favourable, particularly on the yellow colour.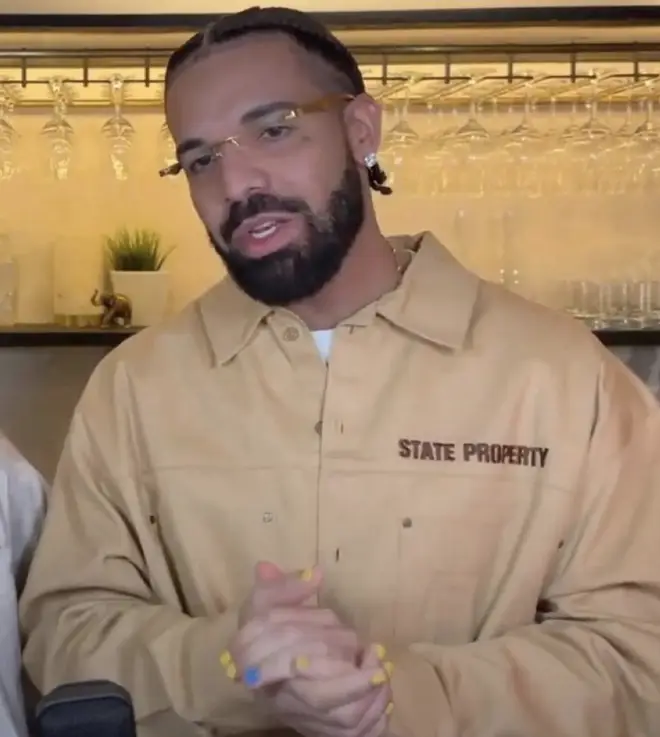 The rapper appeared on a livestream for betting app Stake and sported a manicure alongside a matching trucker's jacket.
Some fans loved Drizzy's way of expressing himself: "The princess of rap is serving" as another wrote: "Looks good. I would choose that colour too."
However, others were more critical of the rappers look: "I enjoy men wearing nail polish but I need y'all to get gel and pick some cute colors."
the outrage behind Drake nails is so funny, because why do y'all even care fr? 😂

— stargirl 💫 (@phyrexoxo) June 4, 2023
drake wearing yellow nail polish is breaking my heart

— TT (@_tzach) June 4, 2023
Another quipped that "Honey…the nails gotta compliment your skin tone."
We will see if Drake rocks some other manicure combinations ahead of his joint tour with 21 Savage in support of their album, Her Loss.
Drake is far from the first male celebrity to paint his nails, with A$AP Rocky, Kid Cudi, and Lil Nas X embracing the manicured look.