Beyoncé's Renaissance Tour: All The Famous Faces Seen At Her Shows
5 June 2023, 09:47
Beyoncé unveils Renaissance vinyl art
Seems like that the Renaissance World Tour is a celeb hot-spot!
Beyoncé has embarked on her long-awaited Renaissance World Tour, and is currently wowing audiences night after night in Europe and North America.
Not only is the superstar performing to thousands of fans every might, among them are some very famous faces!
It seems clear that everyone wants to catch a glimpse of Bey during her set, and here's a rundown of all the A-listers spotted at the Renaissance World Tour so far.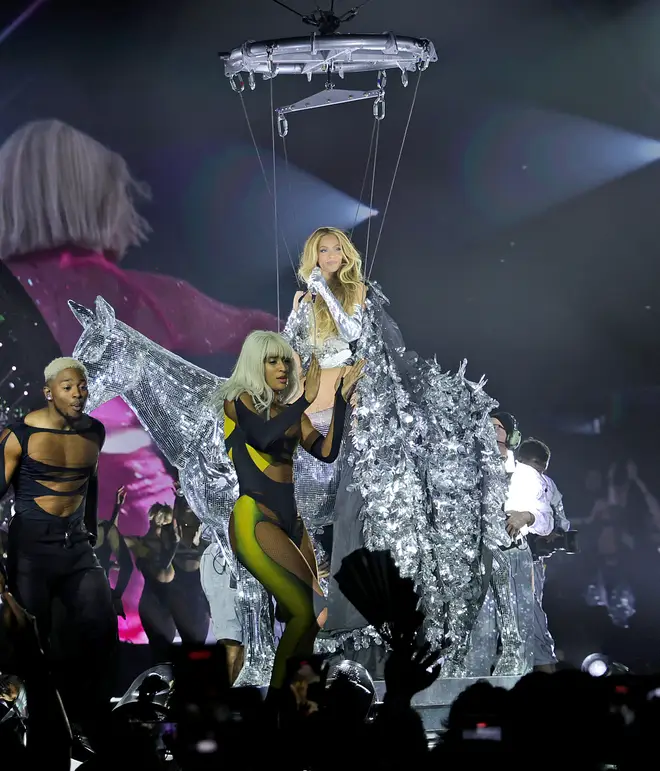 Jay-Z and Blue Ivy Carter

Perhaps this doesn't come as a surprise as Bey's husband and daughter have been spotted at her shows!

Jay-Z and 11-year-old Blue Ivy were spotted at opening night in Stockholm, Sweden enjoying Bey's dazzling Renaissance World Tour.

Zara Larsson

Swedish pop singer Zara Larsson was spotted attending the opening night of Renaissance World Tour!

The singer is from Stockholm, so it was fitting she went to the first show of the tour.

She documented her experience on her Instagram, with pictures of Queen Bey performing her 40-song setlist.

Zara was a mood when she found out Beyoncé opened with 'Dangerously in Love'.

Picture: Instagram

The Cast of Doctor Who: Ncuti Gatwa & Jonathan Groff

Beyoncé fever has spread to the UK as she took her Renaissance World Tour to Cardiff, Wales.

Sex Education and new Doctor Who Ncuti Gatwa was spotted living his best life at the show, and took to his social media to document the occasion.

Alongside the 30-year-old was Broadway legend and Glee star Jonathan Groff, who is playing an undisclosed role in Doctor Who.

Ncuti Gatwa and Jonathan Groff were having the time of their life at Beyoncé's Cardiff show.

Picture: Instagram

Megan Thee Stallion

The Houston hottie was spotted at Beyoncé's date in Paris, and was seen having a blast with Jay-Z.

The rapper was seen singing and dancing along to all of Beyoncé's setlist, including her very own song Savage.

Kylie and Kris Jenner

Kylie Jenner took her mum and a string of pals to Beyoncé's Parisian date and even made an Instagram dump to celebrate the occasion.

Kris Jenner has been spotted at another London date, meaning she is a certified member of the Beyhive!

Kylie arrived in style to the Renaissance World Tour.

Picture: Instagram

Ariana Grande

Ariana posted this on her story.

Picture: Instagram

None other than Ariana Grande took the opportunity to catch Beyoncé at her final London show on the Renaissance tour!

The songstress is currently in London shooting a re-imagining of Wicked alongside Cynthia Evrio, and saw Beyonce on her day off.

She posted to her stories a photo of her watching Queen Bey performing.
Read More Renaissance Tour News Here: