Nicki Minaj new album 'Pink Friday 2': Release date, tracklist, features & more
30 June 2023, 10:58
Nicki Minaj completes walk challenge on TikTok
The rapstress has teased that her highly anticipated new album will be dropping in 2023. Here's everything we know about the project...
Nicki Minaj and Ice Spice to join forces for Barbie soundtrack
Nicki Minaj has revealed that she will be dropping a new album in 2023. The superstar had previously revealed that she had started working on her album in 2020.
This new album will be a follow-up from her 2018 album 'Queen', which was her fourth studio album that featured tracks like 'Chun-Li' and 'Bed'.
The rapper has finally confirmed the release date and title of her fifth studio album, and here's what we know...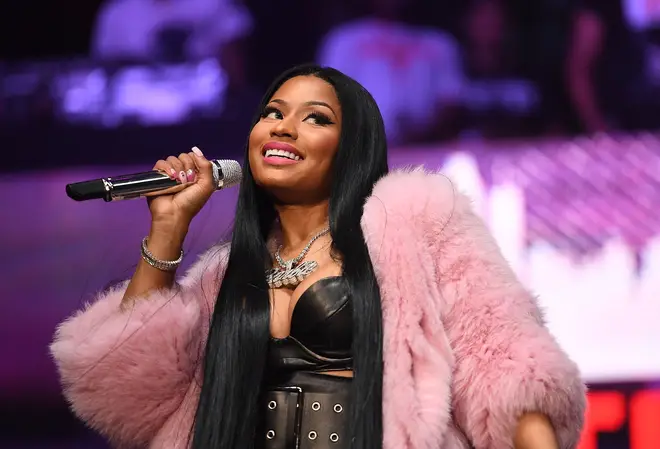 When will Nicki Minaj's new album come out?

Nicki Minaj's long-awaited fifth album has been pushed back from October 20 2023 to November 17 2023.

Minaj took to social media to announce the delay: "I am so grateful for the years of support & love you guys have given me. At times maybe I didn't even deserve all that you have poured into me.

"Nonetheless, you. will. love. this. album. I will give tour deets closer to that time, but obviously the tour will start around the first quarter of 2024. I'll also share the REAL album cover at a later date."

Dear Barbz, I've been trying to find the right time to tell you this for a few days. Due to some really exciting news that I'll share with you guys @ a later time, I've shifted the album date just a tad bit. Trust me, it'll be WELL WORTH THE WAIT…but since I AM shifting the date… pic.twitter.com/lX5iQXYAbG

— Nicki Minaj (@NICKIMINAJ) June 29, 2023

Nicki has been teasing for quite some time, and in February 2020, Nicki revealed some details about her forthcoming fifth album.

One fan asked, "Can we be expecting a new alter-ego this era? Or possibly the return of a fan fave." Nicki then responded, "Queen Sleeze".

When asked to elaborate on her alter ego, Nicki responded: "She's more calm but way deadlier."

Nicki Minaj dropped her last studio album 'Queen' in 2018. Picture: Getty

In February 2022, Nicki Minaj revealed that she will be reverting back to mixtape Nicki in her upcoming album.

During an interview on Power 98.3's The Dana Cortez Show, Nicki said she's doing things just like she did back in the day.

"There's a little bit of full-circledness happening, because I'm creating music kinda like how I used to create music when I first started rapping on mixtapes," Nicki said.

"Which is just having a great experience, enjoying it, being in the moment, staying present in the moment and seeing what happens." she added.

Nicki Minaj drops promo for Princess Diana remix with Ice Spice

She also went on to confirm that "Mixtape Nicki" will be returning, where fans can channel their "inner bad b**ch."

"Oh, you gotta get Mixtape Nicki!" she continued. "I just feel like that's what's needed right now. Like, oh my God! What I do is write raps that connect with people, that make people want to sign a long and channel their inner bad b**ch …"

Nicki continued: "I love giving that good energy to people and make them feel like, 'Yo, I'm speaking for you.'" She added, "You gonna get hints of other things, of course, but yes, you're going to get that Mixtape Nicki."

What will Nicki Minaj's new album be titled?

In June 2020, Nicki Minaj fans were shocked when the star teased the potential title of her upcoming studio album.

Nicki first tweeted "MEMORIES", which many took as a hint towards a possible album or single title.

However, her next tweet sent fans wild "PF2," she tweeted, a likely reference to the potential follow-up to her critically-acclaimed debut record Pink Friday.

Nicki Minaj teases potential album title.

Picture: Twitter

Fans thought Nicki was teasing a 'Pink Friday 2' album as a sequel to her 2010 album.

Picture: Twitter

Who will feature on Nicki Minaj's album?

As for now, there is no confirmation on who will be featured on Nicki Minaj's album.

Nicki has recently collaborated with Ice Spice on her song 'Princess Diana', so fans are speculating that another collaborations could be on the cards.

The rapstress has also collaborated with Latto, Kim Petras, NBA Youngboy and Coi Lerary recently.

What is the tracklist for Nicki Minaj's new album?

An official tracklist has not yet been released for Nicki Minaj's upcoming album.

This article will be updated accordingly.